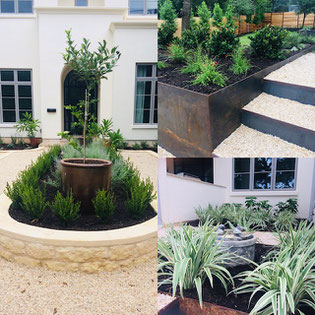 Spring is on the way and there's nothing more satisfying (especially for us here at Austin Living Landscapes!) than designing a home's entryway and improving curb appeal. Not only does a well-designed front yard landscape and garden help highlight the beauty and architectural features of your house, but it will boost value in most cases.
We recently revamped this Tarrytown home, a cute neighborhood just north of downtown Austin, with a goal of creating a more luscious and inviting front yard and entrance.
Pictured are a few of the landscape and garden elements we used to improve this home. One of the first things you'll notice is the steel! We used an ⅛" thick plate steel for planters and risers for the steps backfilled with crushed limestone gravel. Pictured plantings include; Little Gem Boxwood, Firecracker Ferns, Sandankwa Viburnum, Meyer's Lemon trees and Russian Sage. The owner had a nice recirculating fountain that we nestled amongst Variegated Flax Lily.
Plate steel was specified as an overall theme to help retain the slope on the property. This allowed us to create walkways filled with chipped limestone gravel and raised planters filled with a variety of plantings that work great in our Austin climate. Steel also has an added benefit of saving space on a small lot compared to a concrete or stone retaining wall which can be 12"-16" wide. Not to mention it looks great architecturally with many different styles of homes. Steel and gravel are a good option if your house is close to its impervious cover maximum for the City of Austin, and great alternatives to wood, concrete, or stone steps.
At the front door, a raised limestone bed was created on the axis with the front door and entry gate. Flanked on either side of the raised bed is limestone gravel creating a nice, intimate courtyard feel amongst the potted Meyer's Lemon trees, Russian Sage and Boxwoods. These plants are perfect for this home's specific landscape area which gets plenty of sunlight. These plants are not only beautiful, but they add warmth, color and brighten the overall look of the home entrance.
Our last step in ensuring the ultimate curb appeal was landscape lighting. Uplights on the trees and wall wash lights on the house really help the overall aesthetics of the property . Lighting really does help the home look even more attractive, add safety and security and make a great first impression.
Ready to WOW your neighbors and boost your home value? Let us help. Our years of experience and really listening to your needs will help us create a tailored landscape design just for you. Call Jack today 512.921.4400!