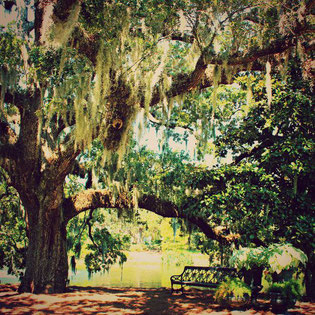 Central Texas native trees have adapted to withstand hot summers and periods of drought, as well as survive harsh freezes in the winter. They are resilient to combat tough weather and soil variations (limestone and rock). Some more common Central Texas native trees that work well for Austin landscapes include the; Live Oak, Cedar Elm, Texas Ash, and Spanish Oak.
Let's take a look at these Central Texas Native Trees That Thrive in Austin:
- Live Oaks - beautiful wide spread trees with horizontal arch branches that dip to the ground. They make the best shade tree, do well in the Texas sun, are drought tolerant, and grow quite large. They are susceptible to Oak Wilt (a deadly disease) - no pruning February - June.
- Cedar Elm - a lovely tree that provide nice shade, and hardy tolerating drought and wet soil. The native grows 50 - 70 feet tall, and grows in shallow rocky soil. The leaves turn a beautiful yellow in the Fall.
- Texas Ash - a beautiful shade tree with a rounded crown, and the only ash tree that's suitable for Texas (grows 30 - 50 feet tall). The dark-green leaves are opposite and compound with 5-7 leaflets. The Fall foliage has red and yellow shades--like a candle flame. This tree needs good drainage.
- Spanish Oaks -  a large tree with a long, straight trunk, open, rounded crown, and spreading branches. It has large thin leaves and can live 100+ years in deeper soils where they can grow quite large. They have adapted to limestone rocky slopes and do well in greenbelt areas. The leaves gradually turn a brilliant red in the Fall.
A few points to consider prior to planting; timing, space and location. The best time to plant trees in Austin is October – March. This time frame gives the root ample time to develop and be ready for the hot dry summer. In addition, you will want to review your landscape space and choose a location that provides adequate light, room for growth, and ample water drainage.
Choose the best location and then you are ready to start digging! Dig a hole where the tree will get appropriate light and adequate drainage. Make sure to dig no deeper than the root ball depth and 2-3x times as wide. Place the root ball in the center of the hole. Adjust the tree so it sits straight and at the proper level. Fill the hole with the soil and water the tree.
Remember, it's important to give a newly planted tree extra water and fertilization to ensure success. Regular watering is an important factor, but be careful not to drown the roots. Freshly planted trees require 15–20 gallons of water every 7-10 days. We recommend watering by hand initially, to monitor the tree for disease, insects and dead limbs.
Happy planting! These native trees will give your landscape lots of shade and beauty for years to come. Leave a comment, we'd like to hear about your tree planting and landscape adventures.